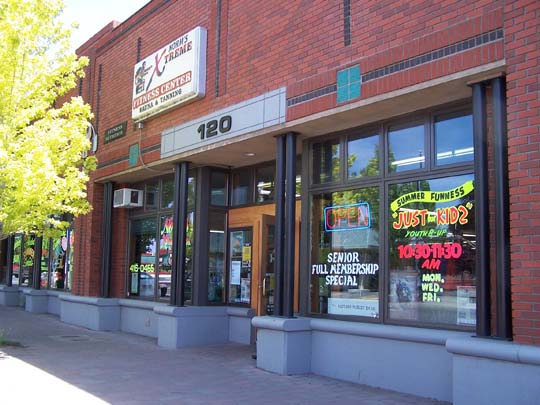 Welcome to Norm's Xtreme Fitness Center in Prineville. We offer a complete range of fitness opportunities including aerobics classes, elliptical trainers, free weights, Tai Chi classes, karate classes, recumbent bicycles, resistance circuit, rowing machine, sauna, senior resistance classes, spin classes, stair steppers, stationary bicycles, tanning beds, and treadmills. Personal training is also available. Norm's Xtreme Fitness Center sponsors local fitness events; see our Newsletter for details.
Norm's Xtreme Fitness Center offers extended hours and a variety of membership options for every budget.
---
UP THE CROOKED RIVER DUATHLON
April 24, 2016

No event ever goes on without help. A special thanks to the Prineville Police Department, Prineville Department of Public Works, Crook County Fairgrounds, Crook County Parks and Recreation and the Crook County Sheriff's Search and Rescue team.
RACE RESULTS
UP THE CROOKED RIVER DUATHLON
APRIL 24, 2016
5K RUN/ 40K BIKE/ 5K RUN
1) Andrew Boone, 1:35:44, Bend 2) Josh Johnston, 1:40:04, Bend 3) Jason Adams, 1:48:30, Bend 4) Eric McKinley 1:50:17, Bend 5) Brad Haag, 1:50:33, Bend 6) Robert Ripley, 1:50:55, Bend 7) Andrew Kersh, 1:51:00, Bend 8) Laura Combs, 1:53:15, Bend 9) David Swift, 2:04:40, Redmond 10) Kevin Sperl, 2:11:13, Bend 11) Mark Koopman, 2:13:12, Bend 12) Brandon Brasher, 2:17:25, Prineville 13) Scott Lewis, 2:25:53, Culver 14) Matt Henderson, 2:27:05, Bend 15) Sue Henderson, 2:31:24, Bend 16) Lew Hollander, 3:00:45, Redmond 17) Natalie Good, 3:00:46, Prineville.
2 MILE WALK/ 10 MILE BIKE /2 MILE WALK
1) Brody Clay, 1:50:20, Powell Butte 2) Tricia Clay, 1:52:45, Powell Butte 3) Jeff Clay, 1:52:46, Powell Butte 4) Barbara Marshall, 1:55:50, Prineville.
TEAM: 5K RUN/40K BIKE/ 5K RUN
1) John Marsh and Monique Davis, 2:35:52
TEAM: 2 MILE WALK/ 10 MILE BIKE/ 2 MILE RUN
1) Becky Bremer and Max Hoffmann, 1:44:02, Bend
---
Check out Norm's recommended Fitness Accessories here.
For Quality Chiropractic care, visit Slater Chiropractic.
Click here for a dozen reasons to join Prineville's Finest Fitness Club!
Norm's Xtreme Fitness is on Facebook!