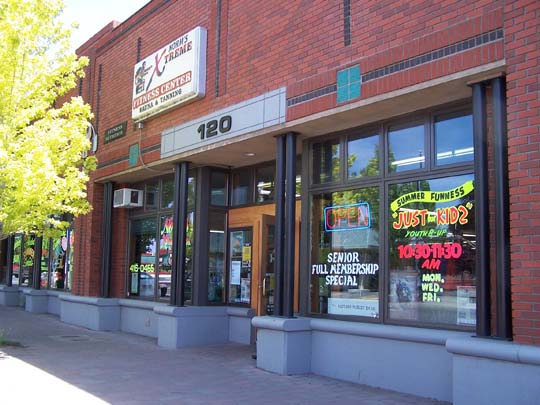 Welcome to Norm's Xtreme Fitness Center in Prineville. We offer a complete range of fitness opportunities including aerobics classes, elliptical trainers, free weights, Tai Chi classes, karate classes, recumbent bicycles, resistance circuit, rowing machine, sauna, senior resistance classes, spin classes, stair steppers, stationary bicycles, tanning beds, and treadmills. Personal training is also available. Norm's Xtreme Fitness Center sponsors local fitness events; see our Newsletter for details.
Norm's Xtreme Fitness Center offers extended hours and a variety of membership options for every budget.
---
Up the Crooked River Duathlon
Sunday, April 23rd. 10:00 am Start
What a nice day for a race! Thank you to all the participants who braved an uncertain weather forcast.
Here are the Duathlon results:
5K Run/40K Bike/5K Run
1) Tim Monaco, 1:45:27, Bend; 2) Robert Ripley, 1:48:13, Tumalo; 3) Andy Libert, 1:51:33, Sunriver; 4) George Pierce, 1:55:39, Bend; 5) Seth Reno, 2:04:26, Prineville; 6) Scott Abrams, 2:18:25, Bend; 7) Matt Henderson, 2:23:36, Bend; 8) Julia Sandvall, 2:37:38, Bend 9) Rachelle Stevenson, 2:43:42, Bend.

2 Mile Walk/10 Mile Bike/2 Mile Walk
1) Fanny Hollingshead, 1:27:45, Madras;(new record time) 2) Nancy Kadel, 1:32:09, Bend; 3) Rachel Wente-Chaney, 1:37:35, Prineville; 4) Barb Dalton, 1:37:35, Prineville; 5) Bob Troutner, 1:41:41, Prineville; 6) Barb Marshall, 1:51:05, Prineville; 7) Laura Kantor, 1:51:12, Bend; 8) Lindsay Rupe, 2:00:14, Bend; 9) Christine Hunter, 2:00:15, Bend; 10) Jerry Peters, 2:24:07, Bend.

---
Check out Norm's recommended Fitness Accessories here.
For Quality Chiropractic care, visit Slater Chiropractic.
For a locally owned and operated Pharmacy, visit Clinic Pharmacy.
Click here for a dozen reasons to join Prineville's Finest Fitness Club!
Norm's Xtreme Fitness is on Facebook!